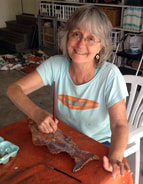 Pat is a juried Teaching Artist with The Kentucky Arts Council, VSA of KY (serving special needs populations) and the TN Arts Commission. She has extensive experience doing short and long residencies. She can design and implement art programs for children or adults, classrooms, libraries,summer programs, etc. in addition to Professional Development sessions for teachers and/or administrators and has experience working with special needs students. Pat implemented three VSA Inclusionary Projects, five Showcasing The Arts lecture/demonstrations at schools in South Central KY through The Kentucky Arts Council and a Kentucky Foundation for Women grant with a women's abuse shelter in Somerset. She will be coming to schools in Spring of 2018 to do two VSA Inclusionary Awards, a Teaching Art Together grant and three Showcasing The Arts Grants. See below to learn how you can bring her into your school or community thru various programs or on a per deim basis.

---




30' Mural created with students at Ohio County Middle School Spring 2014 thru a VSA Inclusionary Project illustrating the four content areas of the arts taught in schools and based on paintings by famous artists.

---

The Four Seasons - 18' Mural in the lobby created with students at Maple Grove Elementary School, TN.
40' Mural designed and created with Students in Lunchroom at Lebanon Middle School thru a grant with The KY Arts Council.
HOW TO BRING PAT TO YOUR CLASSROOM or COMMUNITY THRU GRANTS AND AWARDS
All grant applications are due in October of each year. The Kentucky Arts Council offers the Teaching Art Together Grant which enables teachers of any subject to collaborate with professional artists to design and implement 1 to 4 week residencies to provide authentic arts experiences and new tools for teachers to incorporate the arts into studies. Visit www.artscouncil.ky.gov/Grants/TAT.htm for details. The first step is to contact Pat at 270-433-5605 or artmusic@duo-county.com
so she can save dates for you, help plan a project for your students and begin working on the application together.

The NEW Ky Arts Council Showcasing The Arts Grant brings an artist in for 50 minute presentations on their artform, their training
and inspirations to
demonstrate creating, performing/producing/presenting, responding and connecting, as specified in the Kentucky Academic Standards for the Arts and English Language Arts. The KY Arts Council pays the artists fees and the school is responsible for mileage and technical needs (such as computer, screen and laptop to show PowerPoints. Pat is waiving the mileage for schools in her area....easy paper application and the next deadline is in April 2018. www.artscouncil.ky.gov and click on Applications.
VSA of KY serves special needs populations and you can bring Pat in through the Inclusion Award Program.
Contact Pat first to determine availability, dates and and project to begin the easy application process.
Next deadline will be Oct. 2018.
The TN Arts Commission offers several grants for schools - Check out
http://www.arts.state.tn.us/grant_categories.htm
including
a Mini-Grant program that provides funding for a 3 to 5 day project and you apply at least one month before project begins.
Check out the process and please contact Pat for more information.

In addition to residencies through all of the programs listed above....Patricia was chosen to participate in an initiative to help train special needs teachers to work with art teachers in the summer of 2013,
teaches a visual arts component at the SKYPAC Arts Festival each year for area special needs students, worked through a VSA special initiative to help develop field trips with the Danville Community Arts Center for special education students, designed and implemented a 6 day summer art camp for The Kelly Autism Center in Bowling Green, KY and was chosen to work with middle school students in Bowling Green on a special
environmental awareness project through VSA to study ground water run-off and create art in response to their findings.