How to Purchase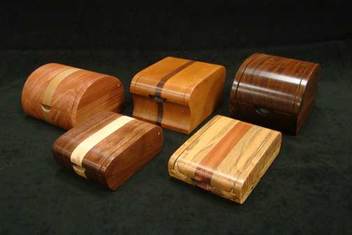 You can purchase Gary's woodworking through his on-line shop -
http://www.etsy.com/shop/cooperswoodstudio
, where he has a
selection of hand-made pieces for sale - such as bandsawn boxes for
your home and office...beautiful gifts for weddings, anniversaries, birthdays, graduations, for your wedding groomsmen including special boxes for rings, pens and guitar pics. He also creates lamps and vases. Shopping on Etsy is easy, shipping is fast and Gary uses insured priority mail in the US.
You can also contact Gary at
gary.artmusic@yahoo.com
directly to make a purchase or discuss commissioning a special piece.
---
About Cooper's Wood Studio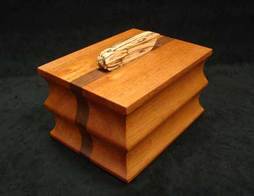 Cooper's Wood Studio is a one-man shop where Gary creates heirloom-quality wood pieces. From beautiful boxes for your desk and home to lamps and furniture, Gary pays close attention to detail and finishing. He is a juried member of The KY Guild of Artists and Craftsmen and The TN Association of Craft Artists. In recognition of artistic excellence he has been selected to participate in Kentucky Crafted, a program of the Kentucky Arts Council, which is funded by the Kentucky General Assembly and the National Endowment for the Arts. He received an Award for Excellence for his woodworking at the Greater Cincinnati Winter Fair of 2011 and Etsy, Inc. purchased a box for their own corporate collection.

---
To see examples of Gary's fine woodworking below...please click on images to enlarge....
From left to right...Custom Black Walnut Guitar Cabinet - Walnut & Cherry Table Lamp - 3 Drawer Jewelry Chest - Custom Black Walnut Mandolin Cabinet...Spalted Maple Box w/Lid - Walnut Victorian - Spalted Sycamore Rounded Box w/Tray - Spalted Maple Chest w/Drawer